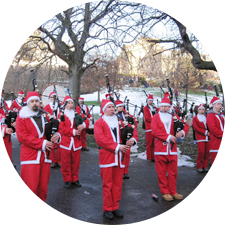 The Osaka Great Santa Run has a simple mission. Our mission is to ensure that families and children in hospitals are able to enjoy this special time of year. Santa Claus and Christmas presents have the power to bring joy to children and families, even during difficult times. Presents help families and children know that people support and care about them.
Show detail
In addition, we think playing is very important to a child's recovery. Having many toys to play with makes children excited and encourages faster recovery. To make all children feel comfortable, we donate toys to the children's ward so that all children are able to enjoy playing with the toys together.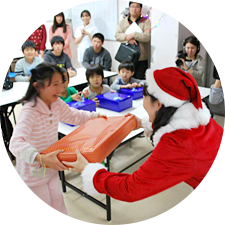 The cost of the Christmas presents and toys are included in your participation fee. Your participation in the Osaka Great Santa Run will directly help fund presents for children who need them the most.
A majority of participants tend to walk all of the course, so do not worry even if you are not good at running.

Even if you cannot participate in the Osaka Great Santa Run, there are many ways you can be "Santa Claus" by supporting us through your community group or school, volunteering, or becoming one of our corporate partners.

Why not become a "Santa Claus" this winter?
Mai Yano

(Producer)

We, the Osaka Great Santa Run have been able to bring a smile to many children since 2009.
Here is some messages from the ones who received them.