The Osaka Great Santa Run is a fun charity running event with participants wearing Santa Claus costumes.
Part of your participation fee goes to Christmas present charges for the sick children staying in the hospital.
The Osaka Great Santa Run is the charity event started in 2009.
As a participant, you run (or walk) 5km wearing a Santa Claus costume. Your participation fee goes toward buying Christmas presents for the children suffering from life-threatening illnesses and who are staying in the hospital even on Christmas Eve.
You will find yourself a perfect Santa Claus both in appearance and heart.

After the event, we Santa office staffs deliver presents to children in Osaka University Hospital and other hospitals in Osaka prefecture when they have Christmas parties in December.

"The more Santas, the more smiles."
Why not become a "Santa Claus"?
Looking forward to seeing you in the Osaka Great Santa Run!

The model of Osaka Great Santa Run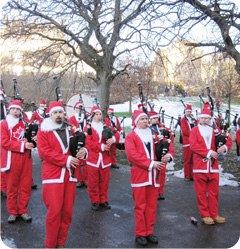 United Kingdom - Edinburgh
The Great Edinburgh Santa Fun Run & Walk
http://www.thesantarun.org.uk/the-great-scottish-santa-run.html
Edinburgh, the capital of Scotland, the United Kingdom, where a Japanese woman was deeply impressed with the Santa Run held in this city and eagerly wanted to hold this event in Japan, too. She looked for the potential and finally realized it later.

Edinburgh is the World Heritage and has a beautiful castle in the city center. They run around the castle, so do people in Osaka, Japan.